Nope, no siree no questions, that's LOADS more interesting than guard duty, let's head there NOW.

W1770W
You actually have a lot of questions, but the allure of the heroic quest that lies before you keeps your mouth shut. Still, something plagues the back of your mind…
Question: If the problem is a titan, shouldn't we bring more soldiers? Despite being called Lemon, we want to be the hero, not the snack.

Alfador
Alex notices your furrowed brow. "Lemon, you understand that we won't be fighting any titans today, right? We're just doing reconnaissance. If I were to entrust a titan slaying mission to a layabout like you, then gods help us, the whole kingdom would fall."
Rosaline raises a paw. "Blademaster. I am not familiar with Solhill. Where is it?"
Alex takes a scroll of parchment from his jacket and lays it out on the floor. "I drew a map. Please excuse the crudeness, it's merely a rough sketch."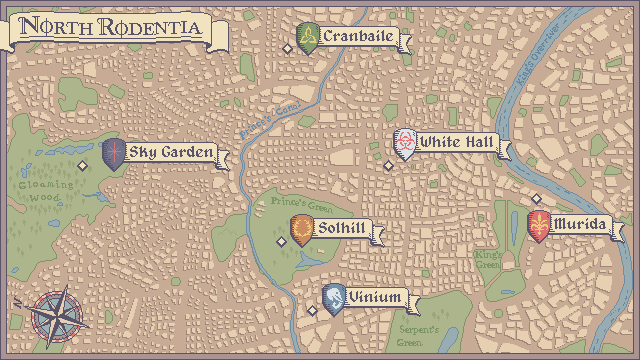 "This is a rough sketch," repeats Val.
"I know, and I apologise," says Alex. "Labels are missing, the inkwork is shoddy, and the map projection is just… well, it'll have to do. As you can see, Solhill lies in the heart of the Prince's Green."

He folds up the map and hands it to you.
"Lemon, look after the map. This is your one job."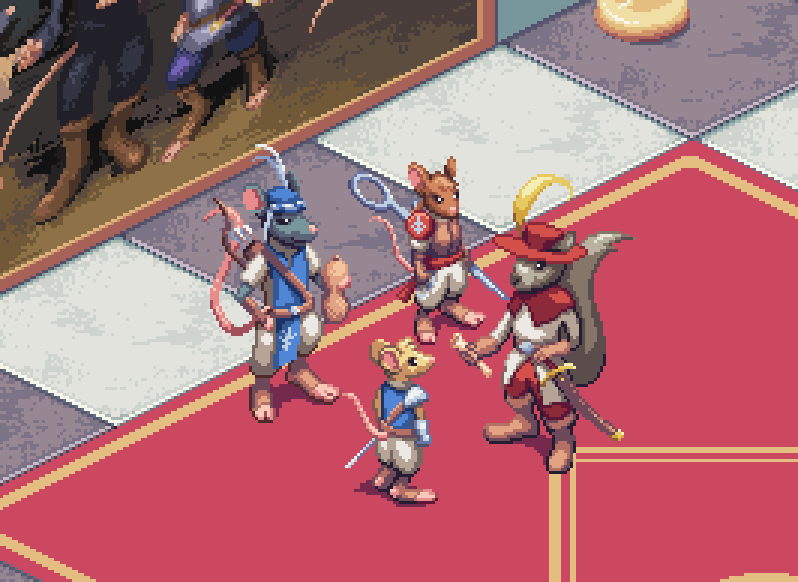 You carefully wedge the map into your belt.
"Looks pretty far. We taking the god carriage?" asks Val.
Wait, we're travelling by god carriage? That's badass. Vagabonds occasionally cling to the underside of the loud, railed machinery to quickly traverse the Kingdom, but deciphering the cobweb-like travel network is an art in itself.
"No, god vehicles are only for emergencies," says Alex. "We'll take ravens."
Wait, we're travelling by raven? That's equally badass. You've heard songs of the "Order of the Shadow Cavalry", the night-clad rodents who fly onto the battlefield.
"We never do carriages," says Val. "How about we vote on it?"
"Valentina. This isn't a democracy."
"Ah, come on, Blademaster. It'll be fun. I vote god carriage. You vote raven. What about you, Rose?"
"I'm not participating in your childish game," says Rosaline.
"Okay, I think that's called an 'abstain'. So it's still one vote each."
"You're the tie-breaker, Lemon. Carriage or raven?"
Raven (78%, 39 Votes)
Carriage (22%, 11 Votes)
Total Voters: 50

Loading ...